Beach and Bentota in Sri Lanka are kind of synonymous. A visit to the small resort town is there in every tourist's Sri Lanka itinerary. Well, who can we blame when Indian ocean gets lined rhythmically with coconut trees.
Our guide shows you how to enjoy beach town Bentota in Sri Lanka without getting shoved in public.
Index-
Is Bentota worth visiting?
Yes, visiting Bentota is worth visiting because you can fly in the sky here paramotoring . Infact Paramotoring was the only reason why we didn't mind the crowded Bentota beach. At the time we went there were only two paragliding sites in Sri Lanka. So we opted for Bentota, the closest to Mirissa. The town as such isn't as interesting, neither as Ella nor as Mirissa / Galle. The beaches are lovely, but can get crowded.
While we were soaking up the sun, a massive busload of local explorers made a grand entrance at the seaside. By the time evening rolled around, the shore was transformed into a bustling gathering of globe-trotters.
Does it mean Bentota isn't worth visiting?
It depends on with whom you are travelling for how long and when. If it is your family vacation seeking a convenient holiday at a resort by the beach, Bentota should be on your list – It has got options for day trips.
But, on the other hand, if you are a history buff and love wandering in the shaded alleys of cosy streets, Bentota may not be suitable for you. The beaches aren't that great for lazing on doing nothing. They are too open and have no shade (We almost walked for 2km along the coast) like Mirissa. Unless you have a room in the expensive resort, there is no way to escape the scorching heat, especially afternoons.
So our verdict is – It is a great place for people travelling with families and group tours. However, it May not be suitable for flashpackers and backpackers. If we didn't want to do paramotoring, we would have skipped Bentota. We prefer the beaches of Mirissa, Hikkaduwa or Tangalle.
Why is Bentota famous?
Our homestay host clued us in on a little secret: every tour conductor has a one-way ticket to this spot – it's conveniently close to Colombo airport, boasts a plethora of resorts, and flaunts an exquisite coastline. So, picture the swarm of visitors, especially during peak tourist season. It's essentially the official starting line for most folks embarking on Sri Lanka's exquisite beachfront escapades.
Which area to stay in Bentota?
Bentota isn't massive where you have to break your head about choosing the perfect neighbourhood. Ideally, beach front accommodations are good. But they come with a hefty price. In fact, it is renowned as a beachside resort town. So if you are looking for beachfront luxury resorts, you have too many options that may confuse you.
List of Luxury Hotels in Bentota by the beach
While walking to the Paramotor site, we came across two of these and both are designed by Ar. Geoffrey Bawa .
Cinnamon Bey Beruwala – Those sloped roof rooms, breeze from the sea – A luxury you won't regret spending on.
Avani Bentota – The coconut avenue hides this gem and you are a stone-throne away from the serene ocean.
We saw one from the above while flying – Taj Bentota. They all looked beautiful from the outside, and I am sure they are prettier from the inside too.
If our budget was higher and we stayed in Bentota for longer, I would have opted to remain in Lunuganga Geoffrey Bawa's Country Estate. – away from touristy town and in the heart of Geoffrey Bawa's garden.
Mid-Range Budget Accommodation in Bentota
To move away from pricey hotels, move away from beach front and stay closer to it in local homestays.
We stayed in DEDUNU HOME and had an amazing time
The homestay is just 150m away from Bentota train station & beach. It was a bit out of our budget, but totally worth it. They have a lovely cosy garden with pebble courts, creepers and other plants. The front porch itself gives you a homely feel. When you are tired of scorching heat on the beach, coming back to a home like this is heaven.
Though they cater to foreign tourists majorly, their breakfast and the decor remained true to Sri Lankan style. The vermicelli with coconut milk, appam with sambal and some fruits – The first Lankan food we ever had was here. It definitely didn't feel like a homestay owner trying to please his customer, but a host with a warm heart.
And the Toilet seat cover was super cute!
He knew that we would reach his guest house late in the night. So he was waiting for us till 1 AM with some food if in case we were hungry! He was with us the whole time while we had breakfast chatting about Bentota, Sri Lanka and IPL! The next day he had guests going to Galle. So he clubbed us with them and arranged a taxi for 6 of us – we saved money and time because of him.
Waterside Bentota is also good and they are on the banks of a lake nearthe beach
Hostels in Bentota
Chill NASA and Hostel Residence Bentota is super famous among backpackers for both their rooms and food.
How do you get to Bentota Sri Lanka?
You can reach bentota by train or road. As a beachside town, you may be expecting cruises or yachts to reach here from it's neighbouring town. But the town doesn't have any harbour or port.
Which is the nearest airport to Bentota?
The nearest airport to Bentota is Colombo International airport located 105km and takes about 2hr from car. The taxi we booked at the airport at 10.30 PM, costing us around 7500 LKR in 2019. It may easily cost you upto 12k now (as of 2023) after all that economy crisis of 2022.
Check flights to Colombo here.
Getting to Bentota by Train
Bentota's train station "Aluthgama"is like the hub of railway coolness! They've got direct trains running to awesome places like Colombo and Galle. And here's the icing on the cake: the station itself is a tropical paradise, with temple trees giving you a leafy high-five right before you dive into a sea of coconut trees that seem to have a sweet rendezvous with the sandy beach.
If you ever end up hanging out at Bentota train station, no worries. Boredom and hunger are not on the guest list here. You've got coconut experts chilling by the tracks, all set to whip up some tropical goodness. And while you sip that coconut ambrosia, the friendly sea breeze is like your personal relaxation tonic. In fact I would say, taking a walk over the pedestrian flyover is a fantastic thing to do near Bentota beach to get a glimpse of the town.
How to buy train tickets for Sri Lanka?
You can buy railway tickets on Sri Lanka's Railway website which works only a little better than India's railway website. So I recommend using 12Go Asia to book train tickets in Sri Lanka.
Reaching Bentota by Bus
Colombo to Galle buses go via Bentota. Plus there are several cities that connect to the small town by bus that hurt hurt your bums. The route might be scenic, but the ride could be bumpy if you choose the red buses ( NON AC, cheaper government buses). Use Routemaster to track the bus routes.
Getting Around Bentota
Wherever you want to go around Bentota, Tuk-tuks will be your best friend. Don't forget to bargain for a lesser price and fix the rate before starting the ride. Plus most things you want to see/experience as a tourist is within walking distance.
How many days to spend in Bentota?
One or two full day is enough for Bentota. Consider three days if you want to stay in the resort, make day trips to a turtle sanctuary, and kayak in Madu Ganga lake. We suggest you not plan your lazing on the beach vacation in Bentota- it can get super crowded.
Things to do in Bentota
The quaint beach town of Bentota has lots to offer visitors. Strolling on the sandy shores and basking in the sun is a must-do activity. Most tourists go for a boat safari through the mangroves on the Madu Ganga river, which even includes a fish foot spa. I found out that these tours are super popular and can get really crowded, so instead, we decided to check out a nearby temple, enjoy the beach, and go paramotoring early in the morning.
Honestly, we didn't want to cram too much into our day. We just wanted to take it easy, sip on some refreshing tender coconut, and peacefully watch the sunset. So, the one thing I absolutely recommend you do in Bentota is paramotoring. It's a truly unique experience.
Things to know before going Paramotoring in Bentota
We did it through Sky club Sri Lanka Paramotoring. Their website never worked, so we contacted them through Facebook messenger. It was pretty easy to reserve the slots.
How much is the cost of Paramotoring in Sri Lanka
In 2019, it cost 8500 LKR/ person for 15 minutes duration. By 2023 it would easily cost you up to 12000LKR. Check with Skyclub for exact price. Payment had to be done only in cash-Lankan Rupees.
They operate from 9.30 AM to 5.30 PM. We chose 10.30 AM. I can't compare if they are the best in Sri Lanka or not as there are only one or two agencies that conduct paramotor in Sri Lanka.
Take off and landing location
The takeoff and landing location is near Avani and Cinnamon resort. There are no cafes nearby for refreshments. Having juice at Avani may cost you a bomb, so carry water bottles or some canned juice. Don't worry, coconut vendors will help you quench the thirst at low price.
Learn a bit of Sinhala; it helps you converse with the organiser when you are lost in the woods beside the coast trying to reach the takeoff site.
Safety Precaution
We were given a helmet, a life jacket with straps (you fly above the sea) and no elbow/knee guards.
Strangely, they didn't ask us to sign on a declaration form which usually we are asked to sign while doing any flying or diving activity. There was no briefing or asking about if we have any particular health issues. That form saying "I am responsible for my life" wasn't there at all. However, we both are alive today, so I say it was safe.
It is better to go empty stomach to do paramotor. Have tea and some coconut water only for breakfast and you can munch delicious local Lankan breakfast later.
Best time of the day to do Paramotoring in Bentota
As early as possible in the morning! Book your slot for the first flight.
The Story of Paramotoring
We both are early birds. We love the time of dawn when the town wakes up and gets ready for the day. The Pitambara street was waking up while we took our morning walk when the air was warm (Yes, the morning breeze was also warm in Bentota). Bare-chested men wearing a lungi (sarong) were walking towards the ocean. Ladies were watering their beautiful gardens. White/red tuk-tuks carried a lot of snacks and soda bottles to deliver. Empty tuk-tuks often stopped, and the drivers kept, "Hi Tourist. Welcome to Bentota. Boating in Madu Ganga lake, turtle sanctuary, Fish spa – full-day tour 1000 Rupees. Best service, do you want."
A Series of houses lined either side of the street.
The coconut trees behind every house dominated the town's silhouette. Most of them were homestays with beautiful gardens in Bawa's style. Instead of flowering plants, there were various greens and creepers, as well as many temple trees. As the sun rose and the heat increased, we reached the highway. To be honest, the city isn't as great for cycling or walking as Galle or Mirissa. It seemed to lack some charm. Therefore, we opted to head down and walk towards the paramotor site by the beach.
Encountering a pretty empty railway station
As we strolled to the end of the road, we came upon a railway track nestled beside the sandy beach. We decided to walk along the platforms for a few minutes, and it didn't take long for us to appreciate the beauty of Sri Lankan railways.
A charming bridge connected both sides of the platforms, offering a picturesque view that showcased the essence of traditional Sri Lankan architecture. The roofs were adorned with half-round clay tiles, and the landscape was dotted with countless temple trees. Each time I laid eyes on a building like this, I couldn't help but gush about my favorite architect, Geoffrey Bawa.
After an hour of walking, we finally reached the railway station, which proved to be the most tranquil spot for a break. It provided some much-needed shelter from the scorching sun, allowing us to escape its relentless rays.
I never thought I would lay down on a bench in a railway station. But we did it here for almost 30 minutes.
There was hardly anyone. Some locals in sarongs were waiting for their friends, and a coconut seller approached us. The heat and tiring walk needed something as fresh as this tender coconut water. Among the multiple similarities between Sri Lanka and India, cricket is one.
A smile from each other, coconut water, and there it began –
Where are you from?
When I replied "India," he smirked, laughed, and said something in Sinhala. I was pretty sure he was chuckling about my team, which seems to be on a losing streak. So, in good spirits, we joined in the laughter and responded, "Ee sala cup namdee" (This time, the trophy is ours). We exchanged handshakes with him and continued our walk to the beach.
The wide-open beach and the blue water set the scene for our next 30-minute stroll. Walking along the beach was a straightforward pleasure, but our venture into the woods had added an extra layer of excitement (and relaxation). It's astonishing how tuk-tuks in Sri Lanka can navigate even the tightest and most winding streets. Despite the apparent absence of human activity, a lone red tuk-tuk was parked there, patiently waiting for its owner and passenger.
We could hear the water splash from the pools.
On the left, there stretched out a vast open beach concealed behind the bushes, and to the right, a string of upscale resorts such as Avani and Cinnamon Bay unfolded. Guests lounged on sunbeds under the welcoming shade, while their children frolicked in the pool. The half-round clay tiles that adorned the sloping roofs were a common sight here as well. As we marveled at the opulence surrounding us, we carried on with our walk, and at 10:15, we received a phone call from the Paramotor organizer to confirm if we were en route.
As we arrived at a particular spot, we noticed two gentlemen donning green shirts adorned with Sky Club logos. Behind them stood a skeletal machine equipped with wheels. My assumption was that they were in the process of creating a newer version of something. After exchanging pleasantries and getting acquainted, they directed our attention to the very skeletal vehicle and declared, "Are you ready? Gear up!"
"What on earth did we sign up for?
Is this contraption even capable of lifting my weight? Can it really take off, and what if it plummets into the ocean from the sky?" We chattered nervously with each other as they helped me secure my helmet and tightened the life jacket. I was the first one slated to take flight!
I took my seat behind the pilot, and they secured the fabric behind the vehicle. The motor roared to life. While Ashrith offered a prayer for my safety, I was filled with excitement about the impending takeoff. After a brief 15 seconds of skimming along the sandy shore on its small wheels, the vehicle ascended, and I disappeared into the sky.
As far as we could see, it was that bright blue water, with a splash of white when waves hit the shore of beige sand. The vast trees beside the ocean looked like mushrooms, speed boats seemed like tiny insects moving fast, and we felt like a bird with the wind hitting my face.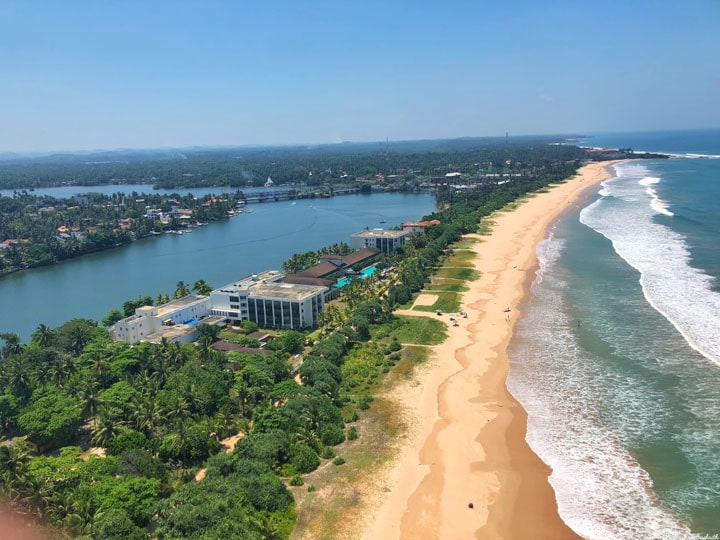 Ashrith said
"My heart was pounding the whole time you were up there. I watched anxiously as you returned, all smiles and shouts of joy after 15 minutes. But I have to admit, I'm feeling pretty scared!"
I responded, "Trust me, it's an experience unlike anything you've ever had. You genuinely feel like a bird, soaring through the open air. It's completely safe, and the pilot was skilled. Don't let fear hold you back; I promise you'll absolutely adore it!"
Ashrith is acrophobic.
The worried acrophobic man describes
I closed my eyes and offered up another prayer. As I sat down, the paramotor took off. Once I was up in the air, the pounding in my chest began to subside. I felt weightless, and a profound sense of freedom coursed through my veins.
All I had to do was sit and wonder if I might spot any whales breaching the water below. Ordinary tourists like us are completely clueless about paramotor controls, and it seemed like the pilot worked some kind of magic. From up there, humans looked minuscule. It was as if what I had learned back in school – "70% of the Earth is covered in water" – had been vividly proven right before my eyes.
That 15 minutes of the ride felt like five minutes. Finally, an acrophobic man flew in the air and wanted to go further. After landing, he hugged the pilot and told me, " Birds are the luckiest, and we are blessed to fly like this."
What do you think of Bentota beach town? Let us know in the comment section below.