After traveling around the state, covering four out of its five regions in two weeks, I've put together a comprehensive 15-day travel itinerary for Gujarat. Trust me, I really wish I could have stayed longer to experience and explore more of the unique heritage arts that you won't find anywhere else in the world.
Before you follow this 15 Days Gujarat Itinerary :
This itinerary is suitable for a road trip by car or bike.
I recommend foreign tourists to hire a car with a driver, while we Indians can easily manage it if we are open to long journeys. You can use buses and auto-rickshaws at the destinations to get around.
You can follow this itinerary using trains as well, but it will require an additional 3 or 4 days.
The roads are in good condition with street lights at night, and the scenery throughout is vibrant, unique, and never leaves you with a dull moment.
Avoid traveling after dark.
Food on the road- The highways are lined with affordable hotels. I recommend the Hotel Sarvottam restaurant chain, which serves traditional and hygienic Gujarati food.
Avoid dining at the famous Sankalp, the South Indian restaurant chain. Trust me, as a South Indian, Sankalp food tastes far from authentic South Indian cuisine.
For accommodation, I recommend budget hotels or semi-luxury havelis. Hostel culture isn't prevalent in Gujarat.
Read our post "Gujarat Travel Guide from a True Admirer" for all practical info before you start making your Gujarat Travel Itinerary
Where to start and end your 15 days Gujarat Trip?
Starting in Ahmedabad and finishing in Bhuj, or vice versa, is the way to go. Ahmedabad has an international airport, while Bhuj's domestic airport links to major cities like Mumbai and Delhi. Both cities have well-connected railway stations for easy travel to other states. This 15-day Gujarat travel itinerary suggests beginning in Ahmedabad and concluding in Bhuj, but you can also reverse the order, like we did to fit our Rann Utsav plans.
Summary of Gujarat 15 Days itinerary
Gujarat comes in five flavors (regions), but for the best touristy taste, savour Saurashtra, Kutch, North Gujarat, and Central Gujarat. Leave South Gujarat for the business buffet.
For a 7-day Gujarat trip, focus on Kutch and Central Gujarat.
Gujarat Itinerary : Day 1-5
Ahmedabad and surroundings. Get around by Uber taxis or Rickshaws.
Where to stay in Ahmedabad
Budget hotels in Ahmedabad
Artilla Inn – Ideal due to it's location and that is where Ashrith stayed
Hotel Alka Inn ( My brother stayed here and had a comfortable stay)
Hotel Le Grand – This is where I stayed. I recommend this, but it is located in Parimala garden
Heritage hotels in Ahmedabad
The House of MG – Recommended by a friend who loved their room ambiance and food.
Places to avoid in Ahmedabad
Read our post "Best Travel Resources for Planning your Trip" to know why we recommend specific digital platforms for your accommodation bookings
Kankaria Lake is quite artificial. The revitalized lake is filled with plastic toys, making it far from peaceful. Swami Narayan Mandir is another popular place in Ahmedabad, and it's similar to its counterparts worldwide. Similarly, the Vaishno Devi temple doesn't live up to the hype.
Day 1 : See around Ahmedabad the city
Gandhi Ashram
Charles Correa's riverside masterpiece offers a Gandhi-like experience. Regardless of your views and beliefs, this place should be on your list to understand our nation's history. The museums and gift shops have reasonable prices, and you can find unique handmade paper books. The place is serene, a stark contrast to Ahmedabad's usual hustle and bustle.
Hutheesing Jain Temple
The Jain temple, constructed in the late 1840s by a private Jain family, is synonymous with intricate detailing. The main gateway porch boasts detailed wooden haveli elements crafted from marble and yellow sandstone, including decorated walls, carved balustrades, balconies, chabutras, and jali work. The facade also showcases intricate carvings on pillars, pilasters, and walls. As my mom says, "You don't know what or where to look in Hutheesing Temple because every corner is so detailed and beautiful." Spend an hour here.
Teen Darwaza and Bhadra Fort
There's a big grin on my face as I write this! Teen Darwaza is one of the most unique and lively markets that my mom and I have ever visited in India. From a metal coconut grater to fancy chiffon sarees at affordable prices, you can find everything here. And the best part is, it's not just a place for tourists; locals come here too. The excitement around the triple-arched entrance, the stories of how a Muslim Sultan and a Sufi saint worshipped Goddess Lakshmi and built this iconic gateway, people bargaining and chatting – this is the place where life truly thrives.
Round off your day with a feast at Manek Chowk.
From the Indigo flight pilot to my architecture college professor, everyone raved about Manek Chowk. The scorching Ahmedabad heat, locals' culinary skills, and affordable prices gave birth to Manek Chowk's Night Food Street. I savored classic dishes like Gatiya Jalebi and Sev Puri, while others indulged in unique treats like Cadbury Pizza and pineapple sandwiches. Arrive with an empty stomach and some cash on hand for foreign travelers; digital payments are convenient for us Indians, even for a 10 Rs Kulfi.
Day 2 : Walking Tour and other places
Ahmedabad Heritage Walk
Skip jogging today because Ahmedabad's heritage morning walk can take up to 3 hours. Understanding Old Ahmedabad, its clever drainage system, well-placed gas outlets, charming bird feeders, old havelis, temples, and the poet's house along the winding Pol streets is "the" experience.
As you approach Rani No Hajiro, a converted tomb-market, make a detour to Manek Chowk, where you feasted the night before; it now rests in tranquil silence, food carts gone, like a slumbering giant.
Some of the stories you here during this walk, especially about how Indian Freedom fighters used these narrow alleys are mind-blowing.
Have breakfast in Old Ahmedabad
In Old AHmedabad You can savor delicious fafda, khakra, and chai at the small local shops. Refuel your body there before continuing to explore Old Ahmedabad.
Spend more at the Pols
While the walking tour is fantastic, make sure to carve out some "me time" to truly absorb the old city's charm. I suggest revisiting your favorite areas, camera in hand, to capture its beauty.
Look out for captivating details on haveli doorways – you'll spot depictions of angels in sarees, women holding books, gloves symbolizing Queen Elizabeth, and men wearing turbans to denote their caste.
And, be sure not to miss the exquisite stone lattice work on the Jama Masjid wall; it oddly resembles a wall from Wakanda, trust me. After all that walking in Ahmedabad, head back to your room to rest.
Visit Ahmedabad's Ni Gufa
A holistic union of Contemporary artist's vision + the legendary architect BV Doshi's creation birthed the unique wonder of Hussain Doshi Gufa.
This subterranean structure, designed as an art exhibition space by M.F. Hussain. Its distinctive design, with bone-like columns and an outer shell resembling an octopus-tortoise hybrid, sets it apart. You'll find yourself wondering why more buildings aren't subterranean (Architects, consider exploring more architectural beauty at CEPT and IIMA with prior permission, while non-architects can start thinking about lunch.)
Check out Vechaar Museum
Ever wondered why Gujjus are master chefs? Well, Vechar museum in Vishala filled with traditional utensils and the restaurant serving authentic Gujarati cuisine right beside it can give you a taste of their culinary prowess!
Take a rickshaw or taxi to Sarkhej Roza.
Sarkej Roza, a serene complex, featuring a mosque, tomb, palace, and a tranquil tank, all from the Mughal era, sits by two ponds with water levels that change with the seasons. It's a perfect place to admire architecture, immerse yourself in ancient Indian design, and watch the sunset from a remarkable historic structure. Consider hiring a local guide for a richer experience.
Take a rickshaw back to Ahmedabad, specifically Law Garden
At Law Market, you'll discover beautiful lehengas adorned with mirror work and intricate embroidery, ideal for the Garba festivals. Explore lanes filled with antique jewelry shops and traditional attire while enjoying some delicious snacks – a visual treat!
Day 3 : Day Trip to Northern Region
Enjoy an early morning walk along the Sabarmati Riverfront.
Exploring the city as it gradually wakes up offers a unique experience. The Sabarmati Riverfront, developed in the 2000s, allows you to witness the beautiful blend of old and new in Ahmedabad.
Leave Ahmedabad by 9:30 AM for Adalaj Stepwell.
How far would you go detailing a water storage structure? The answer can be found at Adalaj Stepwell, located 20 km from Ahmedabad and built by Queen Rudabai in the 15th century. It's a brilliant fusion of practicality and aesthetics. The intricate carvings and ornate designs not only look cool but also provide shade – it's like ancient air conditioning
Visit Modhera Temple
From studying this temple in my undergraduate days to witnessing it firsthand, it's clear why our ancestors were remarkable builders. The stepwell's intricate carvings are impressive, but what's truly astonishing is that it has 52 columns representing weeks in a year, with a design that allows the sun's rays to fall on the idol in a specific way. Don't forget to check out the museum and wander around stepwell.
Explore Rani-Ka Vav
This UNESCO Heritage site is both a water reservoir and a place that creates a unique interplay of light and shadow. When you park your car at the site, you'll see nothing, as this massive stone structure, built in 1060 AD, is underground.
The steps and each pediment are adorned with characters from the Ramayana and Mahabharata. My favorite character? The man with the mustache!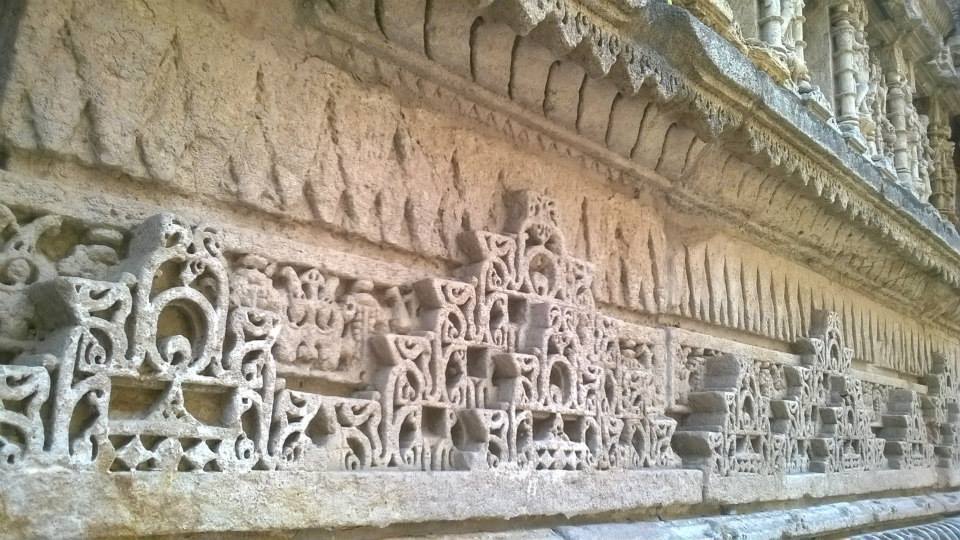 Meet the creators of India's costly Patola sarees at Patan
Patola sarees from Patan are among India's priciest, handwoven with intricate skill.
Families like the Solankis and Salvies are among the few masters left. Making one saree can take six months and cost around 2 lakh INR! Weavers are friendly and happy to guide you through their craft, whether you're buying or ordering a custom piece, explaining everything from the elephant motif to tie-dye techniques.
Come back to Ahmedabad by evening spend evening at Manek Chowk or Urban Chowk.
Other place to add to your day trip list
Add "Sidhpur-30 km from Patan," which I missed and regret immensely. It's a beautiful village with a pastel-shaded streetscape where the song "Inthandham," from the 2022 movie "Sita Ramam," was filmed.
Day 4 : Day Trip to Vadodara
Had your fill of Ahmedabad? Let us add Vadodra to your Gujarat itinerary.
The most straightforward route from Ahmedabad to Vadodara is via the National Expressway by car.
For a local experience, take a train journey from Ahmedabad to Vadodara. Trains run every 30 minutes, and the trip to Vadodara station takes about 1.5 hours. From there, you can use rickshaws or book an Uber to explore the city. Vadodara has plenty of taxi service stations.
Places to see in Vadodara in a day
Lakshmi Vilas Palace
Tambekar Wada
Champaner-pavagadh archaeological park
You can also consider Maharaja Fateh Singh Museum if you are a museum lover.
Spoiler alert
Lakshmi Vilas Palace is privately owned by the Gakewads, the former royal family. Upon arriving in the city, we were surprised (angered and frustrated) to find that many tourist attractions were closed for the king's birthday celebration.
We spent our time strolling through the streets and the somewhat lackluster old bazaar. Before your trip, ensure Vadodara's monuments are open to the public, as they may close for private events, Diwali, or national holidays.
Gujarat Itinerary Day 5
Ahmedabad-Lothal-Bhavnagar (180km journey)
If you've been on the move lately and need a breather, consider starting your day a bit later after a leisurely breakfast. But keep in mind, you'll be exploring under the sun in one of India's oldest port cities, dating back to 2450 BC on the way. Enjoy the company of rural fields along the way to Bhavnagar, where you can spend the night. This way, you'll be all energized for your visit to Palitana next day. Plus staying at Bhavnagar is the only way for non-Jains like me who wants to visit Palitana the next day.
Why should you visit Lothal in Gujarat?
Lothal is an amazing destination, appealing not only to history and archaeology buffs. While many can't explore Harappan sites in Pakistan, visiting Lothal offers a glimpse into the highly advanced pre-Egyptian Indus Valley civilization.
You can explore ancient ruins that include a well-planned city and an planned drainage system ahead of its time. Don't forget to visit the museum, where they screen a documentary every 45 minutes, offering insights into the fact that the land you're standing on was once a highly planned city with a sophisticated drainage system and water supply.
Where to stay in Bhavnagar?
If you're up for spending a bit more on accommodation, check out the Nilambhag Palace Hotel, where we stayed.
This heritage hotel offers lavish rooms with wooden carvings, beautiful gardens, and antique-filled corridors, giving you a taste of the Maharaja or Maharani life. Their food may be on the expensive side, but it's worth a try. Treating yourself to the Maharaja experience for a day won't break the bank.
Other budget options for hotels in Bhavnagar are
Gujarat Itinerary Day 6
Palitana 3800 steps hiking and head to Gir in the noon.
After a restful night's sleep in Bhavnagar, start your day early at 4:30 AM to head to Palitana, which is only 40 kilometers away. This small town is known as the world's first and only vegetarian city! It holds immense significance for Jains and is considered the epitome of spiritual purity within the Jain community.
Palitana is rightfully known as the "City of Temples." What makes it truly unique is the presence of an astonishing complex of over 900 Jain temples atop the Shatrunjaya Hill. These collection of intricately carved marble and sandstone temples dot the hills, creating a breathtaking spectacle on a hilltop that stands approximately 500 meters above the ground. Reaching this spiritual haven requires ascending 3,800 steps
Can non-Jains go to Palitana?
Yes. But, Remember – Palitana isn't just a tourist spot; it's deeply sacred. As responsible visitors, we shouldn't disrespect the community's beliefs. Moreover, turning Palitana into a social media spectacle may lead to restrictions for non-Jain visitors in the future. You can find more details on what to know before visiting Palitana in my dedicated post.
Following a rewarding day of hiking and savouring the splendor of Palitana, relish a free meal at one of the dharma chatras. These places offer food as "Prasaad" to pilgrims, and you can always rely on the spotless hygiene and purity of Jain cuisine.
Palitana to Gir
I'm quite certain that most of us simply want to crash on a comfy bed after the hike. From Palitana, it's a 4.5-hour car ride to traverse only 145 km through lush rural landscapes to reach Gir.
Where to stay in Gir?
You'll find several resorts in Gir to suit various travel preferences. My recommendation is to go for the one surrounded by farms in Sasan Gir than the small town Talala.
I stayed in Gir Jungle Lodge Resort . Not a fancy looking place but super quiet and comfortable. The food was great and their farm surrounding the rooms is what we needed most . Plus they also arrange performances by Siddhi community upon request
If you're seeking a luxurious stay, the magnificent Aramness Gir National Park would be an excellent choice. Priced at approximately 86k INR per night for two adults, this architecturally acclaimed haven, founded by a wildlife photographer amidst lush farms, offers a genuine retreat for those in search of luxury and natural beauty.
Gujarat Itinerary Day 7 & 8
Go on Safari and hike around Gir
What is unique about Gir National Park?
Gir in Gujarat is the exclusive home to lions outside of Africa, and what makes it even more remarkable is its connection to the Siddhi community.
Descendants of Africans brought to India by colonizers in the 1400s, the Siddhi people offer a distinctive cultural perspective. Some resorts can arrange Siddhi community performances, and with the right planning and connections, you might even get a chance to explore their traditional lifestyle and how they coexist with Gir's majestic lions.
How to spot Lions in Gir?
The only option to see lions in Gir is by going on a Open Jeep Safari.In peak season, that is winter, it is good to book in advance, a month before at least .
What are the realistic chances of spotting the lion at Gir National Park?
According to the 2020 census, there were a minimum of 674 Asiatic lions in Gujarat, spread across an expansive 30K sq. km. Seeing them in their natural habitat isn't necessarily rare, but it does require a stroke of luck and some clever decision-making when choosing one of the four available trails at the perfect slot.
When I talked to people in Gir about not spotting a lion, they often shared a common Hindi saying: "He's the king of the jungle, after all. He won't just appear out of nowhere. Be patient, put in the effort, that's when you'll catch a glimpse. Don't fault the lord of the jungle for his no-show."
Some safari-goers are lucky, spotting lions on their first try, while others may spend multiple days without a sighting. Then there are folks like me, who opted for a single safari and only found lion paw prints. The fortunate consistently spot lions. So, when you embark on a Gir Safari, enjoy the experience of being in their territory, exploring nature, and relishing the journey rather than obsessing over seeing a lion.
Where to book Gir Safari
Numerous websites claim to be "Gir Safari Booking websites," but many of them are actually agents. To steer clear of potential scams and unnecessary hassles, it's advisable to book your safari through the official government website.
Which safari is best in Gir National Park?
Of the four trails, the "Gir Jungle Safari" is your best chance to see lions in their Indian natural habitat. It immerses you in Gir's ecosystem, where you'll encounter diverse wildlife such as Neelgai, peacocks, and deer. While lion sightings aren't guaranteed, the experience is unparalleled. In contrast, Devalia Safari Park is enclosed by fences, resembling an open-air zoo with animals like tigers in fenced enclosures, rather than replicating a natural habitat.
Which is the best time slot for Gir safari?
The early morning slot from 6:30 to 9:30 AM is the best time to spot lions, followed by the evening slot from 3 PM to 6 PM. Avoid the 9:30 AM slot, as lion sightings are less likely during that time, as advised by safari drivers.
What else to do in Gir other than Lion Safari
If you go on a safari on day 1 and want to try something different, consider exploring Girnar's hiking trails leading to Jain temples at the summit. A ropeway introduced in 2018 offers a non-walking option. It's a sacred Jain site, so please respect its religious significance, avoiding casual tourist-style hikes in workout attire.
Gujarat Itinerary Day 9
Gir-Somnath or Junagadh- Porbandar Dwarka
It's time to move from the jungle's realm to the sacred land of Hindu gods by the oceanside. Whether you're a Hindu or a believer in the divine, add Dwarka in in your Gujarat Itinerary.
Gir to Dwarka
The journey from Gir to Dwarka spans around 290 kilometers and takes up to 6 hours by car. However, you need not worry about it being a long and tedious trip. The road follows the Arabian Sea, providing a scenic route with many beautiful sights.
If you're a person of faith and wish to visit one of India's 12 Jyotirlingas, you can travel from Gir to Dwarka via Somnath, a beautiful seaside temple associated with Lord Krishna's play, making it a significant pilgrimage site like we did
Other places to see on Gir-Dwarka route
For those less interested in spiritual sites, consider a route through Junagadh, often overlooked but a hidden gem in Gujarat. Junagadh offers numerous attractions, with the highlight being Mahabat Maqbara Palace.
This architectural marvel, resembling something out of a fairy tale, features domes and minarets that rival modern skyscrapers in grandeur and elegance. Regardless of your background or interests, one essential stop when traveling from Gir to Dwarka is Porbandar, the birthplace of Mahatma Gandhi.
How to get to Porbandar
Traveling from Gir to Dwarka, you'll find Porbandar conveniently on your route and hence it doesn't take a lot of space in your Gujarat Itinerary.
The journey takes you along the oceanside, particularly after crossing Somnath, with notable spots like Madhavpur Beach, known for camel rides. The oceanside drive offers remarkable views with salt lands and windmills. However, it's important to note that the beaches aren't ideal for sunbathing.
In Porbandar, Gujarat, Gandhi's birthplace is more than just a house; it's a sacred site for those who admire Mahatma Gandhi's life and philosophy.
This three-story structure symbolizes the humble beginnings of an iconic figure of peace and nonviolence. It's a place where history resonates, reminding us of Gandhi's values of simplicity and resilience.
A 2 hour journey for about 100km takes you to Dwarka from Porabndar
Gujarat Itinerary-Day 10
Dwarka isn't just a religious destination; it's a place where history, culture, spirituality, and natural beauty come together. Non-Hindu visitors can find value in its diverse offerings, enjoy rides on the ocean, admire fantastic architecture, and listen to captivating tales of mythology from the local guides.
Where to stay in Dwarka
Choose hotels facing seaside or Gomti river Ghat.
Dwarkadish Lords Eco Inn – This is where we stayed and opted for a seaside room and had a fantastic view of Rukmini Devi temple also. The food is great.
Places to see in Dwarka
Dwarkadhish Temple:
The Dwarkadhish Temple pays tribute to Lord Krishna, who is the soul of Dwarka. Its divine architecture works like magic, with a tall tower and intricate carvings that leave everyone spellbound. The unique part is that cell phones aren't allowed inside, fostering a spiritual atmosphere instead of social media preoccupation. By pure chance, I happened to be in Dwarka during Holi, and the vibrant celebration right in front of the inner sanctum was one of the most spectacular dance events I've ever seen.
Beyt Dwarka
Take a ferry to Beyt Dwarka, my second favorite place in Dwarka. It's believed to be where Lord Krishna spent his childhood, and you'll find a temple called Beyt Dwarkadhish there. The island is a natural beauty, and during your ferry ride, you'll meet countless seagulls swooping in for snacks.
Be aware that the ferry from Okha can be a bit chaotic with no organized queues, and group ferries charge about 50 Rs per person, sometimes requiring passengers to stand. I'd suggest opting for a private ferry, which costs around 2500 Rs. Keep in mind that facilities like hotels or toilets are limited on Beyt Dwarka, unlike Dwarka itself.
Rukmini Temple
This shrine is dedicated to Lord Krishna's first wife, considered the incarnation of goddess Lakshmi. Situated by the sea, it dates back to the 12th century but is believed to have been constructed in Krishna's era. The story of Krishna and Rukmini drawing Durvasa Muni's chariot, with Rukmini becoming thirsty and Krishna creating the Gomti river by pressing his toe into the ground, is both captivating and spiritually significant.
Gomti Ghat
Ghats are an integral part of India's religious sites and serve as my favorite spots for people-watching. Gomti Ghat, which is well-maintained, offers a pleasant place to observe the world pass by during the evening.
Gopi Talav:
Visit Gopi Talav near Beyt Dwarka to discover the source of the "tilak" marks worn by Krishna devotees worldwide. The sandalwood-colored soil surrounding this small pond is believed to be where Lord Krishna met the Gopis after leaving Vrindavan. Hindus consider it sacred, believing that the land where Krishna walked with the Gopis turned into this sandalwood-like soil, the raw material for the "Chandana" tilak mark.
Gujarat Itinerary Day 11
Dwarka to Jamnagar – 140KM /2.5hr journey
Now, you're approaching the final part of your Gujarat trip, with just four days left. The journey from Dwarka to Kutch is about 450 kilometers and takes over 9 hours.Typically, Jamnagar is considered a quick stopover by 99% of traveler and is ok to do so.
However, we had a different plan, staying for two nights so Dad could watch a Cricket World Cup India match while Mom and I explored what little Jamnagar had to offer tourists like us. It turned out to be quite a pleasant surprise!
What is Jamnagar known for?
Jamnagar is known for world's largest oil refinery owned by Reliance group. This has nothing to do with what travellers in Gujarat. But knowing this gives you a fair idea that Jamnagar is known for industries.
Things to do in Jamnagar if you spend a day here
Jamnagar, Gujarat, is known for its beautiful Bandhani art. This craft has been a part of the city's heritage for over four centuries, so shopping for it is a must in Jamnagar.
If you decide to spend a day in Jamnagar, be sure to check out Lakhota Palace on the lake and Khijadiya Bird Sanctuary. These were places we loved during our Gujarat trip and can be a great addition to your itinerary.
Gujarat Itinerary Day 12
The journey from Jamnagar to Kutch, covering approximately 300 kilometers, typically takes about 7 hours by car.
The route is neither thrilling nor dull, with dry pastures and bushes prevailing. However, the sight of majestic Gir cows and buffalos on their way to pasture adds beauty to the journey. Start your day early so you get to rest well for the next day.
Gujarat Tourism ambassador Amitabh Bachhan's words, "Kutch Nahin Dekha to Kuch Nahin Dekha," translate to "If you haven't seen Kutch, you have seen nothing." While I usually don't endorse such clichés, this time, I have to agree. When you visit Gujarat and omit Kutch from your itinerary, you're making a significant mistake and missing out on something truly remarkable.
What is unique about Kutch?
Kutch is unique because of its vast salt desert, grasslands, marshlands, diverse culture among the Kutchi people, exquisite embroidery and handcrafted treasures, earthquake-resistant circular mud houses called Bhungas adorned with mirror work, and its wildlife, which includes hyenas and wild asses. It's also home to one of the sites of the Indus Valley civilization.
Where to stay in Kutch?
In Kutch, opt for local homestays in traditional mud Bhunga houses. These circular dwellings are an iconic part of the region, featuring mirrored wall decorations and thatched roofs.
Ashrith stayed at Khengar Bhai's Bhunga houses for three nights during his bike trip in Gujarat and enjoyed the warm hospitality of Khengar Bhai's family.
Beware of the dumb-replicas of Bhunga built using brick or RCC.
Is it worth staying in Tent City?
If you visit Gujarat between October and March, stay in the Rann Utsav tents for a fantastic cultural experience. The festival offers local shows, evening concerts, and a chance to explore stalls with friendly local artists and craftsmen selling their wares at great prices. Enjoy a delicious vegetarian buffet featuring the best of Gujarati cuisine. I chose a 2-day, 3-night package but highly recommend the 3-day, 4-night option for a deeper experience.
They also provide bus tours to places like Kalo Dungar and nearby villages, which are convenient if you're traveling with elderly family members. My parents had a great time without worries. If you prefer a more immersive village experience and want to explore further, inquire at the Rann Utsav camp's front desk to arrange a cab with a driver to accompany you on your explorations.
Gujarat Itinerary-Day 13 to 15
Day 13 – White Desert and Super-cool villages.
Hop on a camel cart to catch a sunrise in the dazzling white desert.
It's like something out of a dream, with the saffron sun rising and making the whole place feel unreal. You can stare at it forever, just remember not to park your behind – it leaves a salty impression that's not too glamorous!
When you're done being mesmerized by the sun, head back to your room for some grub, freshen up, and pack a picnic for later. Then, it's time to go village hopping.
Next, Gandhi Nu Gaam, where an NGO keeps the Kutch tradition alive
You'll find stalls housed in those charming Bhunga-style huts. The local women here are rocking some seriously beautiful Kutchi attire. Remember these women aren't photo props. Be respectful, show some love and buy something!
Next up, Hodka village, a bit like Gandhi Nu Gaam but with fewer tourists.
Take a leisurely stroll, chat with the local artisans, and admire their crafty handiwork. Some spots even serve up simple snacks which can be extended to meal.
I can't help but regret missing out on Nirona village, where you get the chance to meet the remarkable family preserving the 400-year-old Rogan art tradition. It might be a bit of a detour, but trust me, it's absolutely worth it!
If the heat's getting to you, head back to your room to chill. But if you're up for it, return to the stunning white salt flats, especially at sunset – that's where the real magic happens.
Day 14 – Kutch Lake and surroundings.
Consider me obsessed, but I yearned to return to the white desert on the second morning. It was love at first sight, now a forever favorite. However, the choice is yours; you might opt for a later start. Why stay in your room when the outdoors are so stunning? Venture to the white desert, taking in the landscape with fresh eyes. Return for a meal and head out again.
Hit the road to Dholavira
Road to Dholaivra is a fascinating journey where you'll likely stop many times to admire the Rann of Kutch on the way. And be prepared to face the crowd on this road during peak season.
Explore Dholavira, an ancient Indus Valley civilization site, and be amazed by their advancements. It's come a long way since 2015, with better tourist facilities. Have lunch and depart about 2.5 hours before sunset for Kalo Dungar.
Watch sunset at Kalo Dungar
Kalo Dungar, situated in western Kutch near Khavda village, is the district's highest point. It's one of the top spots to catch a breathtaking sunset, especially on clear days, offering a view of the white salt flats below.
At Kalo Dungar's summit, there's a temple devoted to Lord Dattatreya, a Hindu deity, known for living with four dogs. My mom and I cherished this humble temple.
Heads up : Beware of chatty folks
The Indo-Pak border is a mere 55 kilometers from Kalo Dungar Hill, which explains the strong BSF presence in the area. However, with all due respect to our BSF soldiers, a rather talkative BSF officer once decided to embark on a lengthy speech just as we were savoring the sunset at the cliff's edge.
It can be a touch frustrating when your primary goal is to soak in the scenic beauty, and someone decides to lecture you for what feels like an eternity. I later discovered that this had happened to numerous other visitors as well. If you ever find yourself in a similar situation, it's perfectly acceptable to politely request some solitude and step away from the speech.
Come back and chill in your Bhunga hut or Rann Utsav tent.
Gujarat Itinerary Day 15
Bhuj and surroundings.
On day 15, I suggest checking out from Kutch and spending a night in Bhuj. You can start your day early in Kutch to maximize your time exploring Bhuj and then catch a train or flight to your next destination in the evening. Bhuj isn't a sprawling tourist hub; most attractions are conveniently nearby.
Where to stay in Bhuj?
Bhuj isn't what you'd call a polished city. When I visited in 2015, it was pretty basic. I, in fact, chose to stay snug in my Rann Utsav tent and just did a day trip to Bhuj. Ashrith found it somewhat improved in 2018. So, don't expect the luxury of a fully developed city. However, there are some decent options now, as the hotel scene has been picking up lately. My advice is to go for hotels on the east side of Harmisar Lake – you'll be closer to most attractions and not too far from the airport either.
Things to do in Bhuj
Explore Pragmahal, a Gothic-style palace
This unique palace in Bhuj, built in Italian Gothic style during the late 1870s, is a marvel that transports you to a small Italian town rather than rural western India. It boasts stunning features like arcades, trefoil leaf openings, marble flooring, stained glass interiors, and bell towers that are typically found in churches. It's truly an architectural wonder and survived the devastating 2001 Bhuj earthquake. Plan about 2 hours to fully appreciate this palace.
Visit handicraft centers in Bhuj
While you may have already explored places like Nirona in Kutch, the art villages in Bhuj offer a different experience. Many of these craft centers in Bhuj are founded by art and craft enthusiasts.
Here, you'll encounter not only aspiring artists but also a diverse group of individuals such as painters, architects, photographers and volunteers learning from rural master artisans. Khamir Craft, Kutch Art Collectives are the famous ones and must be part of your Gujarat Itinerary.
Explore Hira Laxmi Craft Park
Established in 2005, this park was in full swing when I visited in 2015, and recent visitors say it still retains its charm. Here, you can witness artists practicing various craft forms, including Bandhani dyeing, weaving, block printing, and over 10 types of Kutchi embroidery.
These artists work in small stone huts during the day. The park offers benches and shaded areas for visitors looking to take a break from shopping and learning.
Wander the Royal Vijay Vila Palace
After a satisfying lunch at Toral in Bhuj, make your way to Mandvi beach to explore the enchanting Vijay Vilas Palace. If you've seen the movie "Lagaan," you'll easily recognize this palace in Mandvi. Built in the late 1920s as a summer retreat for Kutch's Maharajas, this palace is truly unique. Despite being located just under 2 km from the beach, all you'll see from the palace's arcaded balconies are lush greenery. The deciduous forest and rural surroundings add to the charm of this "not too large but incredibly beautiful" palace.
Take a walk on the beach
To cap off your palatial and artistic day in Bhuj, enjoy a splendid beach walk as the evening sun sets. Mandvi and Madhavdev Beach are both famous options nearby, but I recommend Mahadev Beach as it's less crowded and has a marshy charm. There's even a small pocket of shoreline surrounded by ocean on both sides.
After this, you can head to the airport for your flight or the railway station to continue your journey to the next destination.
Heads Up : Something new came up in Bhuj in 2022!
Smritivan Earthquake Memorial and Museum in Bhuj is a special place, opened in 2022. It honors those affected by the terrible 2001 Gujarat earthquake. This museum sits on Bhujiyo Dungar, a small hill just outside Bhuj. Impressively, it's the largest memorial and museum constructed in modern India, sprawling across 470 acres. This modern museum can show you how Gujarat suffered and later recovered, offering a unique architectural experience.
Found our 15 Days Gujarat Itinerary useful? Let us know in the comment section below.