A day trip to Shirakawago can take you to a place you haven't imagined, even in your dream. When you think of Japan, you think of bullet trains, fancy skyscrapers, and enchanting shrines. However, it is hard to associate Japan with a charming village which is not just an open-air museum but active like Shirakawago.
Our post shows you how to make a perfect day trip to Shirakawago on a budget.
Index
Why must you visit Shirakwago?
Shirakawago is a "perfect postcard" village in Japan's remote mountainous region of Gifu Prefecture. It is a UNESCO World Heritage Site known for its unique Gassho-Zukuri houses, with steep thatched roofs resembling hands in prayer. The view of the cluster of Gussho houses makes the village feel like it isn't part of the Japan you have been seeing.
Shirakawago is a collective term for three villages – Ogimachi, Ainokura, and Suganuma. These villages surrounded by hills have the Gassho style steeply sloped roof houses.The natural setting, community spirit and distinctive architectural style make Shirakwago an idyllic village.
Why is Shirakawa a World Heritage Site?
These villages are like traditional superheroes, perfectly adapted to their environment and equipped with the tools they need to thrive. Despite the economic upheavals in Japan since 1950, these villages have managed to keep their social structures intact, showing that even in a world of constant change, some things never go out of style. So, they're not just preserving their history, but they're doing it with style and grace.
Why is Shirakawago famous?
Shirakawago is a famous day trip destination among foreigners and domestic tourists for all the right reasons.
Apart from the awe-inspiring vista, Shirakawago is well-known for its seasonal appearance! I am describing it as if Shirakwago is a model who changes her outfit. Indeed Shirakawago is a supermodel. Each season in Shirakawago offers its own unique beauty.
What is the best time to visit Shirakawago?
A friend of mine who visited Shirakawago in the summer was shocked to see our pictures from winter! I was equally stunned to see her photos in summer. So you will likely be jealous of others who visit Shirakawago in a season different from yours. Or you will be confused about which is better!
I met a Japanese tourist in Shirakawago who was visiting the village for the 5th time! She said she wanted to see how the village looks in each season. And she said she couldn't decide which was more beautiful. Here is what she described.
Shirawakawago in Spring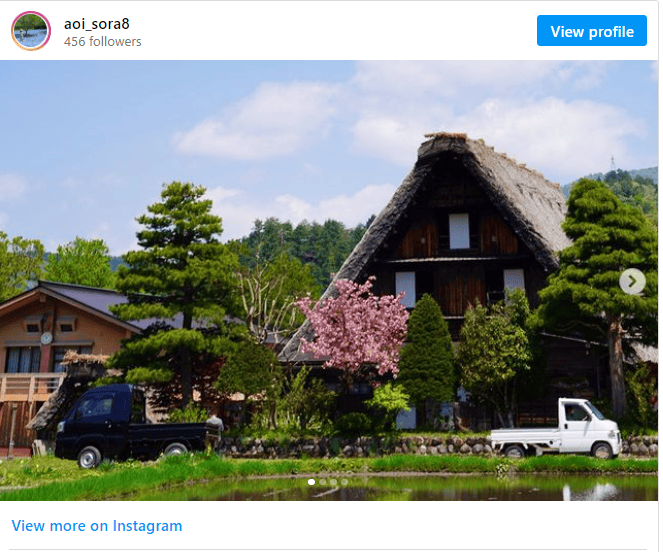 In spring, Shirakawago comes alive with the blooming of cherry blossoms and other spring flowers. The pink and white cherry blossom trees surround the village, creating a stunning contrast against the thatched roofs.
Shirakwago in Summer
The mountains are covered with thick forests, and the fields around the village are filled with crops and flowers. The houses stand out against the verdant backdrop, and the clear blue skies make for perfect outdoor exploration and hiking. The rivers and streams that flow through the village are also at their fullest, creating a soothing ambience.
Shirawkawago in Autumn
In autumn, the mountains and forests turn into a palette of vibrant colours, with leaves changing to brilliant shades of red, orange, and yellow. So you see a gala of colours in and around the village.
Shirawkawago in winter.
Ahh! Come to Mama! This is the season in which I went.
The village had transformed into a winter wonderland. Heavy snowfall covered the steeply sloped roof houses and the entire village in a thick blanket of snow, creating a fairytale-like scene. I thought a princess or a witch would come out of those houses anytime after a layer of warm light lit inside surfaced their windows post-sunset.
What month does it snow in Shirakawago?
It starts snowing in Shirakwago from December to late February. Mind that temperatures can go as low as -10*c. Plus, you will have to walk on snow-filled pathways. So if you don't dress up as per the weather, you won't be able to enjoy your day trip to Shirakawago. Read our post "What to wear in Japan during Winter" for all tricks and hacks to beat cold in Japanese style.
Plus, you must be flexible with your travel plans during winter. For example, excessive or unexpected snowfall may cut off some of the connectivity. However, Japan is equipped to handle all these. Therefore, your plan may get postponed to the next day, not cancelled fully.
Is Shirakawago a tourist trap?
Shirakawago isn't a tourist trap. It isn't a synthetic place like snow land in the heart of a desert. The village grew organically. Some of the Gassho houses are more than 250 years old. However, you must not be disappointed to see some "Non-Gassho" houses here.
I would be wrong if I said Shirakawago isn't touristy. But it is a crime if I suggest you not go at all – Indeed it is one of the most beautiful villages in Japan.
My observation while I was planning our Shirakawago day trip in winter is
Tourists who aren't prepared for the weather in winter dislike Shirakawago.
Tourists who went on an organised tour where they were given an hour to see some houses whined the place wasn't worth the big chunk they paid.
Is it worth visiting Shirakawa-go?
Yes! It is worth vsiting.
Shirakawago is a very popular tourist destination. If you are an offbeat traveller and feel the Taj Mahal, Bruges in Belgium, or the Pyramids at Giza are touristy because it is popular, you will likely feel the same about Shirakawago. All the places I mentioned above are historical and are super famous tourists. If you don't visit them, you might miss a great experience.
Tips to avoid crowd in Shirakawago
As mortal travellers, over time, we have figured out a way to escape the crowd and find a corner to enjoy the place.
Stay longer. One or the other time, the crowd gets thinner. And take many deviations from the main street. Some of the roads won't have even one human being! Go in the morning. Avoid noons. You will all be fine exploring Shirakawago in the back lanes of this charming village.
How long should I spend in Shirakawago?
If you could stare at those gassho-zukuri houses all day like us, then you should plan a longer stay, like 4 to 5 hours. Then, when you stay longer, you can walk around more, hit the lanes behind and escape the crowd.
On the other hand, if you're more of a "been there, done that" kind of traveller, a shorter visit of 2 hours might be sufficient.
Is it worth staying overnight in Shirakawa-go?
Absolutely! Staying overnight in Shirakawa-go is a unique and unforgettable experience. Staying overnight lets you explore the village leisurely without feeling rushed to see everything in a single day. Plus, staying overnight in Shirakawa-go allows you to experience traditional Japanese accommodation in minshuku or ryokan.
But everything comes at a cost! Huge cost!
The accommodations at Shirakawago looked dreamy, and we wanted to stay there for a night until we checked the price. On December 3rd week, the minimum price for a room in a Gasho house is 10000 yen plus tax.
How do I get to Shirakawago?
Getting to Shirakwago for your day trip can be tricky if you don't plan well and in advance. The village is surrounded by pristine mountains and is a UNESCO Heritage site. Unlike other parts of Japan, trains don't run through the hills. So taking a bus from nearby cities is the only way to Shirakwago.
And don't sleep during your bus journey! The route is as dramatic as the destination.
What is the nearest city to Shirakawa-go?
Takayama, located about 48km away, is the nearest city to Shirakwago. Then comes Kanazawa and Nagoya. Takaoka is closer than Nagoya. But connectivity isn't that great; hence, it is the least popular option.
Trust me, planning our Shirakwago day trip has been the toughest! After doing almost a dissertation-level research, we decided to get to Shirakwago from Nagoya.
Unfortunately, all buses from Nagoya to Shirakawago got cancelled on the day we had to leave for Shirakawago due to unexpected snowfall (Thank god, we got a full refund). Because we had JR Pass, we could change our plan and go to Nagano. From there, we visited Shirakwago.
Do you need to book in advance to visit Shirakawago?
Yes! Irrespective of the season, you must book your bus tickets in advance! Else you will suffer like how we did. The funny part about booking buses on the spot in Japan is :
Let us say you booked a ticket from Kanazawa to Shirakwago at Kanazawa station.
But you want the return ticket from Shirakwago to Takayama.
Unfortunately, that return ticket can't be issued at Kanazawa as you requested a return ticket to a different destination.
This is because different bus companies run only on specific routes. So booking seats prior is a must.
List of buses connecting Shirakawago to various cities.
Kanazawa JR Station
You must get to any of these three cities, likely by train, as all these have Shinkansen and local train lines. Then take a bus from here to Shirakawago.
| | | | | |
| --- | --- | --- | --- | --- |
| From | Approx Distance in KM | Journey Duration | Bus company and website | Appox One way ticker price per adult in yen |
| Takayama | 48 | 1hr | Nohi Bus | 2600 |
| Kanazawa | 75 | 1hr 15 min | Hokutetsu | 2600 |
| Nagoya | 166 | 2 hr 30 minutes | Gifu | 4400 |
Can I make a Day trip to Shirakawago from Nagano?
It is doable, this is what we did, and I don't recommend it. I'll tell you why.
Nagano is about 200km from Shirakwago village. Because it is this far, when you make a day trip to Shirakwago, you lose a lot of time travelling and waiting. We had to do a lot of permutation and combination to get back to Nagano! Fortunately, we got the last bus ticket to Takaoka at the Shirakawa tourist office! From there, we took a Shinkansen again back to Nagano!
Can you drive to Shirakawago?
Having your own car gives you the freedom to stop at scenic spots. You can also visit villages at Gokayama and Ainokura (a smaller version of Shirakawago). Plus, you are not bound to leave at a fixed time. However, during winter, driving during snowfall may not be the safest option. In Summer and Autumn, finding a parking spot in the village may be a big headache.
Best Things to do in Ogimachi Shirakawago in Winter.
Here is a list of best things to do in Shirakawago's Ogimachi druing your day trip in winter.
1. Take the uphill walk to Ogimachi Observation Deck.
Head to the observation deck as soon as you arrive in Shirakawago during winter. Because the winter fog and snowfall may disrupt the sight as the day passes. The 850m uphill walk from the Ogimachi station on the snow-filled sloped path reveals a different picture of the village at every step.
The witty tourists would have made some cute snowmen while resting their feet for a few minutes here and there. But once you are at the top – A world that doesn't belong to this planet shows up there!
You see the entire village from the top. The steep sloped roofs and their ponds blanketed with snow sits in the alpine valley. It is a sight you can't have enough of.
2. Explore Shirakawa Kaido of Ogimachi.
Once you have seen the village from above, it is time to get closer to them. With so much snow carpeting the earth, it is hard t imagine that the front yard of these farmhouses turns into a rice field in summer!
The narrow canals fed by melting snow pass by the houses, adding a musical charm to the village. Then you come across the wider street Shirakawa Kaido which goes directly through the village. So there is no way you are going to miss this street.
Along this street, you see several Gassho houses. Most of these are converted into restaurants, shops, and stalls. One of them had a non-working water wheel. Then there was even a post office inside a Gassho house.
At the end of the road, a shot spring Shirakawa-no-Yu hot spring can be found. If you are ready to spend 700 yen for an hour, this is a great idea to rest your leg after that long hike from the observation deck. Mind that many visitors on a day trip to Shirakawago like you and I want to enjoy the onsen.
3. Take the side lanes.
To savour Shirakawa, you must deviate from the main street and get lost in the side lanes. You can observe the houses more closely in the side lanes without interrupting selfie-stick holders. However, be mindful that most houses along the side lanes are actual family residences.
As an architecture student, I had to learn about "Architecture without Architects" with an example. So when I entered the side lane, I wondered why I didn't pick Shirakwago as my case study! Even if you aren't an architect but a person who wants to see/do/learn more about Shirakawago, you must get lost in the backstreet and side lanes.
Snow-much fun on a day trip to Shirakawago!
You can almost touch the eaves of some traditional Gassho-style houses roofs that are designed to withstand heavy snowfall in the winter months. The steep pitch of the roofs allows the snow to slide off easily, while the thick thatch provides insulation to keep the houses warm. It's a perfect example of humans adapting to their environment.
4. Visit Myozen-Ji-Temple.
The random strolling through the Ogimachi village took us to a temple!
No place in Japan can live without a shrine or a temple. Especially in the historical village of Shirakawago must have a temple. Myozen Ji is a Buddhist temple. Unlike other temples in Japan, where you see a tiled sloped roof, the temple is built in the local architectural style.
The thick thatch roof typical of the Gassho style covers the temple roof. I must admit that I admired the temple bell more than the temple!
5. Cross the Deai Bridge.
After getting off the bus near Ogimachi Tourist Centre, we didn't bother where visitor car parking was located. We came across some goods vans delivering to the residents. But no tourist cars passed by. While strolling through the narrow lanes, we were away from the tourists.
But at one alley, we met them all! It was like finding ants rushing towards a pile of sugar. Wondering where they were coming from or going to, we followed them only to discover a hanging bridge!
Deai Bridge separates the visitor's parking from the village. But this bridge that wobbles as people move on it gives you a fantastic view of the river "Sho" and a different viewpoint to see the village. Who can think a bridge that connects a parking lot to a town could be romantic! But this bridge is!
6. Look for cute things across the street.
The Japanese obsession with making things cute is impeccable. When there is historical significance, these pretty things get cuter!
So in Shirakawago, not only you find cute souvenirs to buy. But also homemade Tofu! They make Macha Monaka, a green tea-flavoured dessert stuffed in a waffle modelled after a Gassho-style house.
The most common and famous souvenir in Shirakawago is Sarubobo – the cute yet slightly eerie red dolls.
Sarubobo is a traditional doll from the Gifu Prefecture in Japan. Though there are colour variations, they're usually red and often given as gifts for good luck or protection. But they aren't all about cuteness totally. Somehow, I find it cutely creepy.
Finding some creepy dolls on our day trip to Shirakawago!
They have no faces, just a rounded heads and a body with limbs that are usually just ropes. It's like something out of a horror movie – a cute, red doll that seems innocent at first glance, but then you realise it's watching you. Always watching. As much as I wanted to buy this for my 4 yr old niece, I didn't. If I found this cutely creep, she would find it freakish!
Some cute things can be on the manhole cover also at Shirakawago!
7. Go inside one of the Gassho houses.
No trip to Shirakawago is complete without going inside of the Gassho farmhouse.
Seeing the Gassho houses is awesome. But to know the inside of it is equally shocking. When you walk on the main street, you will se a name of a few farmhouses open to the public with nominal entrance fees. It is good to pick at least one to know what makes Gassho's house unique from the inside. Check the fare and timings before you enter, as it varies.
Wada House – The largest of all and belonged to silk merchants. Although the farmhouse is still a family residence, the second and third floors are accessible to the public at a specific time.
Kanda and Nagase House – All floors are open to the public.
A Thing not to do in Shirakawa!
Don't be an irresponsible tourist who is there just to click 100 pictures for social media without respecting the boundaries of local residents.
Do people still live in Shirakawa?
Yes, people still live in Shirakawa. With a population of around 1,700, it's a living, breathing community that just happens to be a popular tourist destination. The village's iconic Gassho-style houses are more than just photo ops for tourists – they're cherished family homes that have been passed down through generations. Of course, all that attention from visitors has had an impact.
It's like Shirakawago is the popular kid in school – sure, it's got more friends and attention than ever before, but it also has to deal with more traffic and noise.
What is the issue with tourists and Shirakawa?
Many tourists try to enter houses which aren't a museum without permission. For obvious reason, any resident would get frustrated. So you will come across some Gassho farmhouses with that black and yellow hazard tape around the houses!
Spare a thought for the residents who are understandably frustrated with strangers traipsing through their gardens and homes uninvited. Sure, we all want picture-perfect moments, but let's not forget that monuments aren't just pretty faces – they have stories to tell. So, let's be responsible and respectful travelers by reading them responsibly and leaving the residents in peace
Found our Shirakawago day trip guide useful? Let us know in the comment section below.
Heads up – we are very honest and keep it no secret.
Some of the links in this post are affiliate links. If you buy or book something with our links, we'll get a small commission at no extra cost to you. Think of it as a way of saying thanks for helping you plan better! Don't fear – We only recommend something if we use it for ourselves.